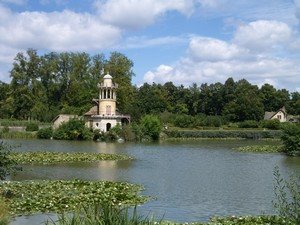 Sdraiati su una panchina di Versailles...
Un'ora e passa per attraversare tutti i giardini ed arrivare ai Petit Trianon, riposo per intraprendere la strada del ritorno.
Per fortuna la giornata era davvero fantastica!
Ottima occasione per belle foto.

La reggia un po' deludente, quella di S. Pietroburgo è molto più grande e kitch!
Il giardino merita forse di più, le fontane tutte chiuse nonostante la miriade di turisti paganti biglietto...
Il restauro ha ridato vita al villaggio di Maria Antonietta, che al tempo svuotò le casse dello stato... Da una parte ci si chiede quante persone si sarebbero potute sfamare, dall'altra se ci fosse stato un po' più di senso umanitario non potremmo godere di queste cose...


Lying on a bench of Versailles...
It takes more than one hour to cross the gardens and arrive to the Petit Trianon, where we had a pause before coming back.
Luckily the weather was wonderful! Good chance to take beautiful pictures.